Written on Jun 22, 2017 by
OBG Intern
CEO Survey Analysis
Le mois dernier, la Banque mondiale a publié un rapport de 300 pages sur l'économie marocaine, applaudissant sa résilience et reconnaissant sa position de leader dans la région, tout en invitant le gouvernement à envisager sérieusement de profondes réformes afin de stimuler l'investissement.
Sans surprise, des représentants du gouvernement, dont des économistes de l'Association Marocaine de Sciences Économiques (AMSE), ont alors réfuté le document et ses conclusions. Les leaders marocains sont, à juste titre, fiers de leur pays et de ses accomplissements.
Pourtant, la petite piqûre de rappel de la Banque mondiale a permis de lancer un débat essentiel autour de la nécessité pour le Maroc de façonner son environnement d'investissement afin d'enrichir son vivier de talents, entre autres chantiers de développement sur le long terme.
Le timing n'aurait pas pu être mieux choisi: Oxford Business Group vient de finaliser son premier Business Barometer: Morocco CEO Survey, une enquête menée auprès de près de 70 PDG du Maroc, qui donne un aperçu précieux sur le moral des chefs d'entreprise du pays.
Une vaste majorité de la communauté économique locale semble rester très confiante quant à l'avenir du Maroc, du moins à court terme.
86 % des sondés ont déclaré être optimistes ou très optimistes concernant l'évolution des conditions commerciales dans les 12 prochains mois. De même, 62 % des PDG interrogés ont répondu que leur entreprise réaliserait probablement ou très probablement un investissement en capital significatif dans l'année à venir.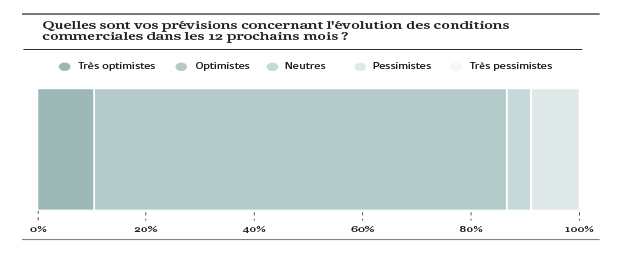 Le Maroc est globalement perçu comme une économie transparente : 77 % ont déclaré que le niveau de transparence des affaires dans la région était haut ou très haut. Il ressort cependant de cette étude un fort degré de mécontentement vis-à-vis des fournisseurs et prestataires de services locaux: même si 44 % ont dit être très satisfaits ou très satisfaits, autant de sondés se disent insatisfaits ou très insatisfaits.
Le Maroc peut également progresser en termes d'accès au crédit. En réalité, plus de la moitié des PDG ont répondu que l'accès au crédit était difficile ou très difficile.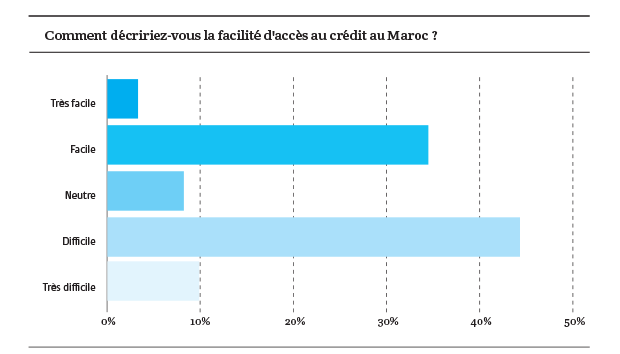 Concernant la politique fiscale, les cadres interrogés par OBG trouvent également les réglementations actuelles insuffisantes : seuls 40 % d'entre eux jugent que l'environnement fiscal est concurrentiel.
L'optimisme dont font preuve les PDG quant au climat général des affaires pour l'année à venir, qui indique une forte détermination à poursuivre sur cette dynamique de croissance, interpelle face aux défis que rencontre l'économie.
Ceci dit, une analyse récente réalisée par The Economist sur la corrélation entre le taux de l'impôt sur les sociétés et la formation brute de capital fixe démontre que la réglementation n'est pas le seul facteur à influencer les décisions d'investissement ; ainsi, la croissance économique peut par exemple avoir plus de poids que le taux d'imposition, ce qui explique en partie pourquoi les PDG marocains sont aussi optimistes.
En effet, alors que l'Algérie et l'Égypte voisines devraient connaître une baisse de croissance de leur PIB de 1,39 % et 3,51 % respectivement cette année, selon les dernières projections du FMI, le Maroc est en bonne voie pour quasiment tripler son taux de développement, qui devrait atteindre les 4,35 %. Ce faisant, le pays distancerait non seulement toute la région MENA, mais aussi l'UE.
Sans montrer des signes de faiblesse flagrants, le Maroc risque toutefois de stagner si certains changements ne sont pas initiés. Comme le souligne le rapport de la Banque mondiale, il faut tout de même reconnaître que l'économie dans son ensemble pourrait largement bénéficier, entre autres, de réformes fiscales et éducatives.
Le Business Barometer d'OBG révèle que les hommes et femmes d'affaires marocain(e)s sont prêt(e)s à investir dans l'avenir de leur pays, alors que les voyants ne sont pas tous au vert : le jour où toutes les conditions seront réunies, plus rien n'arrêtera le Maroc !
OBG Business Barometer: Morocco CEO Survey Copyright (c). Tous droits réservés.
Cette étude a pour vocation d'évaluer la confiance des chefs d'entreprise (Directeur général ou équivalent) et leur vision pour les 12 prochains mois. Contrairement à la plupart des enquêtes, le Business Barometer d'OBG est réalisé par des employés du cabinet, en face à face, en couvrant l'ensemble des industries, tailles d'entreprises et fonctions. Les résultats sont anonymes.
Le Business Barometer d'OBG est fondé sur les données d'entreprises de catégories suivantes, entre autres :
53 % des entreprises interrogées étaient internationales
28 % des entreprises interrogées étaient locales
83 % des entreprises interrogées étaient privées
Les données collectées permettent d'analyser le climat des affaires au sein d'un pays en particulier, mais également au niveau régional et mondial. En outre, des parallèles peuvent être faits entre les pays et la région. Les résultats sont illustrés statistiquement dans une infographie et commentés par les Managing Editors d'OBG dans plusieurs articles.
OBG donne accès à cette étude, à l'infographie et aux analyses liées provenant de sources jugées fiables, à titre d'information uniquement. OBG décline toute responsabilité en cas de pertes, financières ou autres, subies par toute personne ou organisation, pouvant résulter de l'utilisation de cette information.
Pour plus d'informations sur le contenu de cette étude, veuillez contacter : Jaime Pérez-Seoane de Zunzunegui, Regional Editor, the Americas.
Si vous souhaitez reproduire une partie de cette étude, de l'infographie ou des analyses liées, veuillez contacter mdeblois@oxfordbusinessgroup.com. Toute reproduction non autorisée sera considérée comme une violation du droit d'auteur. Pour plus d'informations sur OBG et pour recevoir nos articles de veille économique, veuillez vous rendre sur le site www.oxfordbusinessgroup.com.